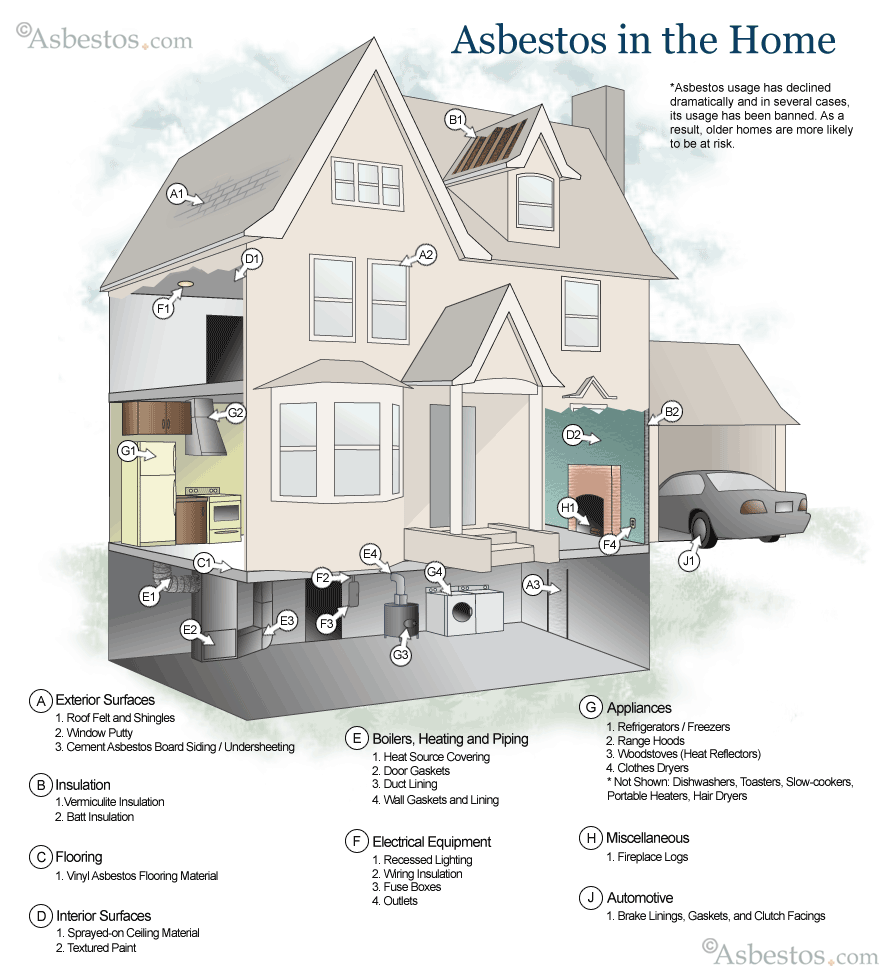 Owning a home is regarded as one of the great moments of your life. It is a time that will bring many joyous memories for you and your family, but is also one that can create additional responsibilities. With many older buildings, there is the potential for hazardous materials that may be present.
Newly bought homes are often remodeled and repairs are always needed. This is often the case with older homes, which still run with old, corrosive methods that were once used to build structures. If you believe that your home contains asbestos, a home inspection could be extremely important for safety, health and investment reasons.
Many real estate agents have begun to understand the many risks and responsibilities involved in the home buying process. Real estate experts make sure potential home buyers receive all the information they need before making the all important step.
Asbestos
Asbestos is a fibrous mineral that gained popularity throughout the 20th century. Its qualities as flame and heat resistant made it perfect for use in construction and building applications. Asbestos that is disturbed or damaged due to age is known as "friable" asbestos. This is a serious concern because its toxic fibers can easily circulate and become inhaled.
Homes and buildings constructed prior to 1980 still hold the potential of containing asbestos materials. In most situations, asbestos appears in roof shingles, dry wall, attic insulation, popcorn ceilings, joint compounds and electrical wires. It is not always an easy process to determine whether or not a particular insulation contains asbestos. Anyone who is unsure about the insulation in their home should have the materials in question inspected and tested.
If exposed to airborne asbestos fibers for a prolonged period of time, it can lead to the development of related lung ailments such as asbestosis and
mesothelioma
. Treatment has varied effects on victims. The age of diagnosis and latency period typically have a direct impact on patients.
Healthy Tips
If asbestos materials are present, most contractors will advise home owners to leave it alone. A home inspector can determine the toxicity levels present. Sometimes the best action is no action at all. A general contractor will usually be responsible for providing materials, equipment and labor for a remodeling project. Consultants will identify material defects in structures and components of the home, in adherence to or exceeding national, state, and industry regulations and standards.
Asbestos insulation should be left undisturbed in your attic. Limit the amount of accessories and items stored. Do not allow children's access. If you plan to remodel or conduct renovations, hire professionals to handle asbestos to safely remove the material. Removing asbestos by yourself can potentially spread fibers throughout your home and your family will be at risk of inhaling asbestos dust.
If an inspector deems the substance harmful, the removal of asbestos in public facilities, workplaces and homes must be performed by licensed abatement contractors who are trained in handling toxic substances. Depending on the condition of the asbestos, many experts feel it is better to seal it off than remove it.
Green insulation alternatives to asbestos include the use of cotton fiber, lcynene foam and cellulose. Cotton fiber is quickly becoming a favorite for home builders and renovators. Made from recycled batted material, it is also treated to be fireproof.